In case you missed the news, we're one month into a 3-month experiment with 50 pioneers who are helping us to test and develop the new Sociocracy 3.0 Online Learning Community.
In December we're launching the full platform, a virtual meeting place for people from around the world to share and learn about S3. Alongside interactive groups and topics, James and I will host regular Q&A sessions, meet-ups and other interactive calls.
If you'd like to know more about what's motivating us and about our intentions with this project, check out this video.
If you're excited to be part of this, you can already APPLY TO JOIN HERE!
Or, if you're simply interested to learn more, check out below what some of our pioneers are saying about their experience so far and subscribe to our newsletter to stay informed.
Some first impressions from our pioneers:
If one has a need to digest the patterns on a deeper level and to develop a deeper understanding, I could not think of any better place than this community. Plus the inspirations you, Lili and James, share with us and the way you facilitate is just awesome and a style I particularly enjoy a lot.
It is a great way to meet people who are engaged in similar governance and organisational development processes and work out solutions to common challenges co-creatively and collectively.
The best thing is that this Community keeps me sharp. I've been reminded about some approaches and how to blend S3 with other methodologies. It's a rich source of inspiration and knowledge.
It's an awesome job that you guys do here, very professional with all the recordings and summaries and follow-ups and not least, the "collection of people" you have put together. I thank you from my whole heart for enabling these connections!
A summary of what's been happening:
We structure all content according to monthly themes.
Our first theme was Sensemaking in Uncertainty. During October we are focusing on Experimentation and Discovery. The themes inspire and inform conversations people have in the forum and provide a frame for topics we cover in the monthly events.
The day-to-day posts, questions people share and the regular online events, all of which are recorded and available to watch afterwards, are the 'heartbeat' of the community. We schedule events at different times and days of the week so that regardless of time-zones, everyone has the opportunity to join at least one call per month.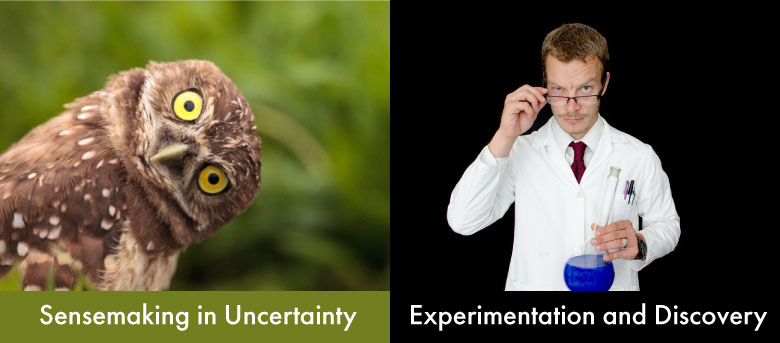 Community Meet-ups
Currently we meet twice a month for our 2 hour community meet-ups where we focus on learning and exchange between members. To give an example, we held a Story-Telling Session using Way Of Council as a format to share stories about life in organizations, before and after pulling in patterns from S3.
I was completely sucked in. I got into kind of a zone and let the words come out. Such an amazing format and great people / stories. Big thanks to you for hosting. […] A strong lead question in combination with story telling would definitely be enough reason to block my calendar.
In our last meet-up we explored the topic of Identifying and Validating Assumptions when Bringing in S3. Members shared accounts of specific cases where they introduced S3 patterns and things didn't turn out as planned. The session revealed insights into what happened and how outcomes could be improved next time. Next up we'll dive into Experimentation and Discovery as Play – an invitation to explore our relationship to play, uncertainty and not-knowing.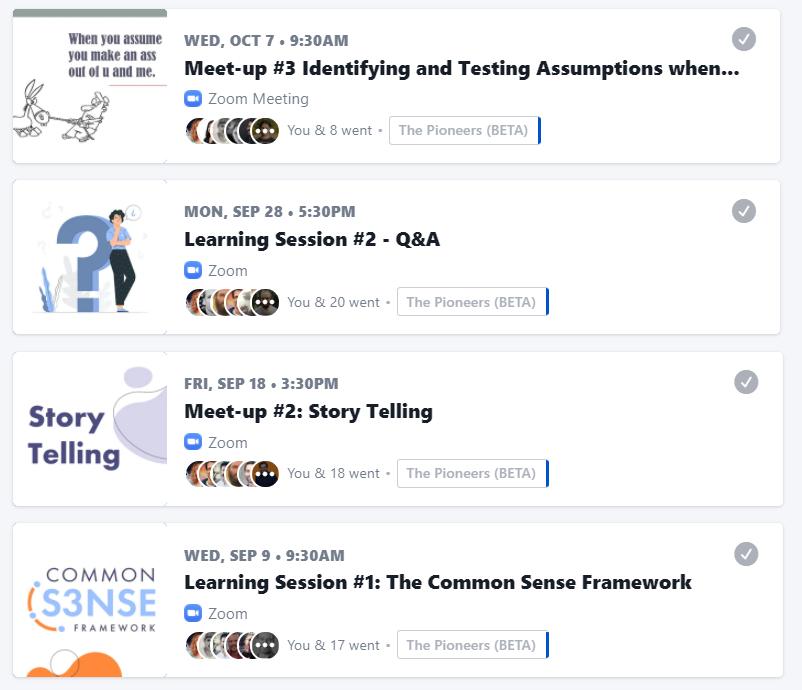 Learning Sessions
These sessions happen twice per month as well. We focus on exploring how patterns tie together, examine related topics, consider case examples and dedicate a lot of time to sharing and answering questions about applying S3. Our sessions so far were:
An introduction to the Common Sense Framework – a new addition to S3, in premiere for the pioneers.
It's all about wholeness and ecosystemic thinking!
Q&A Session: once a month, a change to bring in specific questions and explore answers together.
Lots of food for thought, good questions asked, interesting dialogue.
Shared expertise with a drop of community building
Coming up next is Designing and Running Experiments in Organizations.
Assignments
After each Learning Session we announce a new Assignment. These are optional activities that support practitioners to experiment and reflect on S3 in practice and develop their understanding and skills.
The first assignment was to Introduce the NEW Common Sense Framework to others in an organizational context. The second was to apply the Describe Organizational Drivers pattern in a situation where it might help.
Members report back to the community on how things went and what they learned.
Personal reflections
James and I are very much enjoying this experience. While our group of pioneers are largely Europe based, we also have a number of members from around the world and people come from a variety of working contexts. It's so enriching for us to have such a diversity of people, coming together in the same virtual room to exchange and learn.
This community is a Covid-19 child! It was born out of the exponentially growing need of people wishing to connect with others who are working to grow future-fit organizations in these unprecedented and unpredictable times. Since being in close physical proximity and travelling has (for now at least) become such a risky venture, what better place to connect instead, than in a dedicated, online platform?
This community was also born as a consequence of a major re-prioritization of our work, in response to the driver that has motivated us throughout the lifetime of S3: to make S3 patterns accessible to as many people as possible, so that the seeds of more effective, meaningful and fulfilling way of working can spread far and wide.
From December onward
Basic membership in the community will be free of charge and will include participation in the public forum and access to a private room for member-only conversations.
If you want to go deeper, you can join the Practitioner's Lounge, a subscription-based membership where you'll have access to all the conversations and recordings so far, along with a similar schedule of activities to those described above. There will be limited places available for this plan in December because we want to keep things manageable while we're still learning the ropes and ensure we continue to deliver high-value for members. Therefore we'll be accepting people in the order in which they apply to join.
If you spend time supporting people in organizations to learn about and use S3, there will also be the opportunity for you to apply for a place in the Pro Lounge, a professional development group, focused on teaching and mentoring others.
Stay tuned for more information about the community, coming soon!