Sociocracy 3.0 – A Practical Guide
The practical guide is the official description of Sociocracy 3.0: All patterns, the Seven Principles and key concepts.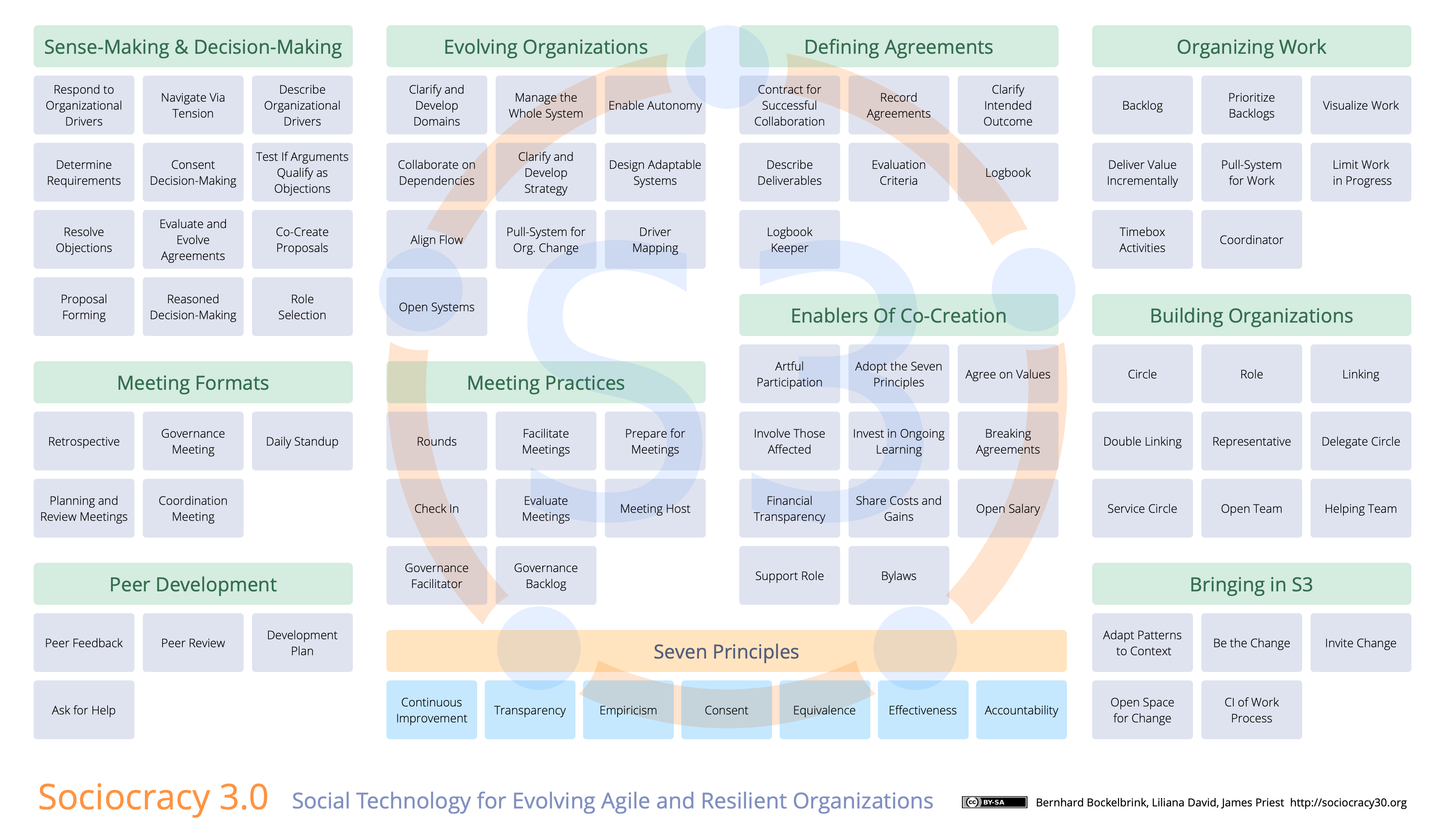 Available Formats and Languages
The practical guide is available online and for download in various languages and formats. We also maintain a detailed changelog as a webpage or pdf file.
Note:: If for some reason the matrix below misbehaves on your smartphone, here's a more mobile friendly version.
Format
English
German
French
Hebrew
Version
v2019-05-03
v2019-03-8-de-0.8
v2017-11-16-fr-0.1
v2017-11-16-he-0.2
the latest version
full translation with German illustrations
full translation with English illustrations
full translation with English illustrations
online
version
A mobile-friendly version with a index for looking up patterns fast.
view
view
view
view
–
eBook (ePub)
An ebook for reading on your ebook reader (kindle, tolino, ..), mobile phone, tablet or desktop.
download
download
download
download
eBook (pdf)
An eBook that works best on tablets and desktops.
download
download
–
–
GitHub
Github repositories with the raw text and all illustrations so you can do whatevery you want.
link
link
link
link
Slide Decks
Notice: Starting in March 2019, due to the increasing amount of detail captured in the practical guide, the latest versions will no longer be available as a slide deck. We're currently looking at effective ways to condense the ebook into a slide deck.
online
slides
An online slide deck for presenting or reviewing patterns.
–
–
view
view
slide deck
(pdf 16:9)
A PDF file with widescreen slides for presenting or on-screen reading.
–
–
download
–
slide deck
(pdf A4)
A PDF file for multiple pages on one sheet.
–
–
download
–
slide deck
(PNG)
A ZIP file that contains each slide as a separate image for building your own presentations.
–
–
download
–